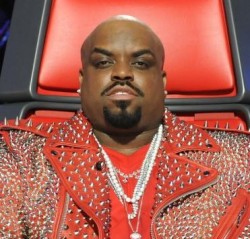 Cee Lo Green has been advised not to get his cockatoo out on The Voice US.
The 'El Dorado Sunrise (Super Chicken)' hitmaker announced plans to replace his cat with his Moluccan cockatoo Lady for the show's third season, which Monica Engrebretson from the animal rights organ­isa­tion Born Free thinks is a bad idea.
"Moluccan cockatoos are beautiful, intel­li­gent animals but they are very chal­len­ging to care for espe­cially in the long term, and are prone to con­sid­er­able welfare problems," she told TMZ. "Many Moluccan cockatoos develop self-destruct­ive behavior including feather plucking and self mutil­a­tion not known to occur in the wild."
"I encourage The Voice to recon­sider featuring a moluccan cockatoo or any bird as a 'pet' on the show and instead promote a more appro­pri­ate companion animal such as a dog," she concluded.
Spoil sport.