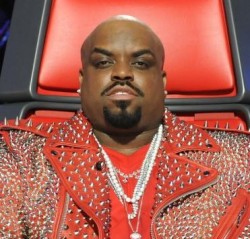 Cee Lo Green is working on a remix of a US cat food jingle.
As reported by ITN (!) the 'Closet Freak' hitmaker, whose cat Purrfect often sits on his lap during The Voice, is remixing the jingle for Meow Mix.
Talking about Purrfect and how this future musical mas­ter­piece came to be he explained: "I wanted to bring the cat on the show — I thought it would be funny, a gag for a little while. Who knew it would become such a sensation."
"I mean, now here we are doing the Meow Mix, remixing the iconic Meow Mix theme jingle."
'Iconic'.