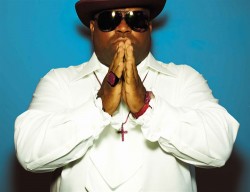 Cee Lo Green is planning to unleash two new albums on the world.
The 'Like A Prayer' col­lab­or­ator announced that he has both a solo album and a Goodie Mob LP in the works.
He tweeted that "EVERYBODY'S BROTHER" would follow on from 'The Lady Killer' and his first Goodie Mob recording since 2005 would be called "AGE AGAINST THE MACHINE". He noted that the two albums were "coming soon".
XXL Magazine claim that the Goodie Mob reunion record was due to have the slightly more risque titled 'We Sell Drugs Too'.