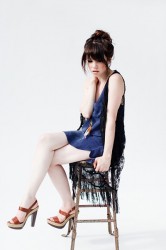 Carly Rae Jepsen's debut album will be released right before she goes on tour with 'mentor' Justin Bieber.
According to MTV, the Owl City apologist has revealed that her LP will be available for purchase directly prior to Bieber's US tour com­men­cing on September 29.
The col­lec­tion of pop songs is set to feature tracks created by Fun.'s producer Steven McDonald and LMFAO's RedFoo as well as an appear­ance by Bieber himself.
"At this point, my record is almost finished. It's pretty close, just wrapping up the loose ends," said Jeppo.
"I feel like the songs are mostly there, but there's still some pro­duc­tion and stuff to be done, but we're close. We're at the home stretch."