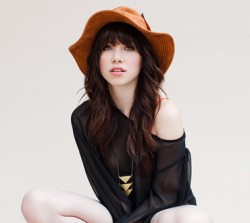 Carly Rae Jepsen's album isn't bloody finished yet.
Speaking to Rolling Stone, Jepsen said: "It's not all the way finished right now, so it's hard to kind of com­pletely talk about it because I'm just dis­cov­er­ing what it might be. But it's def­in­itely a fun process to be in the middle of working on it."
Although the 'Curiosity' EP was released in Canada last month, she's still not sure about a worldwide successor to 'Call Me Maybe'. "I have some con­tenders for sure," she said, "but you never know if something else pops up."
On less vague ground she noted that she wanted to "do Justin proud" when she performs as Bieber's support act during his arena tour. "It is exciting," she said, "but it's also a really big respons­ib­il­ity… It's just a fun sort of brain­storm­ing time to get creative, now that we certainly have the resources to put together the show of my dreams."
So there we are.