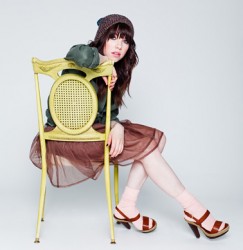 'Wrong Feels So Right' hitmaker Carly Rae Jepsen will have a new single out this summer in col­lab­or­a­tion with Coca-Cola and American Idol.
Billboard reports that Jeppo has joined Coke's Perfect Harmony program, which allows fans to vote on lyrics to be included in a new song.
"I was in the Bahamas and spent probably three days cooped up in my hotel coming up with different ideas for the fans," she said. "The hook is 'I'll take a picture of you / taking a picture of me,' (SOUND THE GREAT POP LYRIC KLAXON) and the viewers get to pick their favorite."
The working title of the song is 'Take a Picture' (of course) and Carly will perform it at the Idol season finale on May 15. You may recall that the Perfect Harmony programme produced this 'gem' of a Taio Cruz song in 2011, so keep your expect­a­tions high.