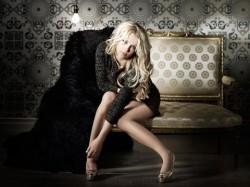 Britney Spears is almost single-handedly keeping Google+ alive.
The Atlantic Wire are reporting that figures released yesterday show Britney finally sur­pass­ing Google CEO Larry Page as the most followed, or 'circled', person on the bur­geon­ing social media thingy, with 739,321 'friends'.
Despite referring to Britney as "not neces­sar­ily the hippest diva on the block" (clearly they're for­get­ting about the Sketchers four-wheeler roller­skates), the article high­lights the import­ance for Google of getting celebrit­ies on board.
US President Barack Obama has also just signed up, but currently has only 61 followers, which frankly is a bit shit.