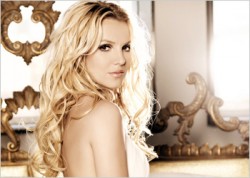 It looks like Britney Spears has recorded a song called 'Ooh La La' for the new Smurfs film.
How do we know this? Well because she tweeted about it of course.
"Remember that surprise song I recorded for my boys?" she began. "It's coming soon!"
To be honest, we don't remember said song, but still.
She then went on: "#OohLaLa for #TheSmurfs2 :) Stay tuned for more…"
She then said this to a press statement:
"I have always loved the Smurfs as a kid and now my boys are the biggest Smurfs fans ever. I wanted to surprise them with a song in the movie. I know they'll think it's Smurftastic!"
'Smurftastic'.
According to this here website, the song is due out in May and has reportedly been produced by Dr Luke, Ammo and Cirkut and was co-written by Bonnie McKee.
Not bad.