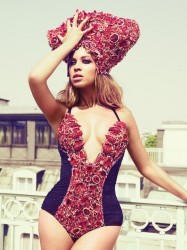 Beyoncé, Changed Man Chris Brown, Kanye West and Nicki Minaj all walked away with 'gongs' at the BET Awards last night, reports Reuters.
Beyoncé was crowned best female R&B artist, while her husband Jay‑Z and Kanye West 'scooped' best group (for this Throne business) and best video for 'Otis'.
Changed Man Chris Brown was 'honoured' as the best male R&B artist, with Nicki Minaj given some kind of bookend for being the best female hip-hop artist.
Performers on the night included Brandy and Monica who paid tribute to the late Whitney Houston.