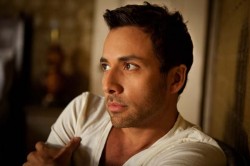 Howie 'Howie D' Dorough will be joining Britney Spears when her Femme Fatale tour reaches South America next month and will be sup­port­ing her in these five countries.
Howie 'took to Twitter' to express his joy at the team-up. "I'm so excited that I'm going [to be] joining @britneyspears on several dates of the Femme Fatale tour…VIP info will be coming next week". The sup­port­ing dates coincide with the release of his debut album 'Back To Me', out November 15.
Backstreet Boys will continue their joint tour with NKOTB (as NKOTBSB, obviously) in the spring next year. In the meantime, Howie can be seen lurking in the laundrette for the video '100'.