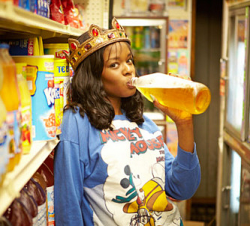 Famously easy to work with 'P‑U-S-S‑Y' chanteuse Azealia Banks has 'parted ways' with her (and Lady Gaga's) manager Troy Carter after just two months.
Talking to Billboard Biz about it all, Carter said: "I can confirm that I ended the business rela­tion­ship with Azealia last month on very amicable terms. She's incred­ibly talented and I wish her nothing short of an amazing career."
'Very amicable'.
In other 'Azealia Banks poten­tially upsetting other music industry bigwigs' news, she's also accused Diplo of going around telling people he dis­covered her.
She told MTV Hive: "I swear, Diplo's running around telling people, 'I dis­covered her!' Every magazine's like, 'Diplo produced her first track 'Seventeen'.' No he didn't, I produced it. I just sent it to him. Everyone just thinks that Diplo found me, but he didn't."
And finally, in a separate interview with MTV, she's 'come clean' and confessed that she got a little ahead of herself when she tweeted "just got a Kanye West beat" a few months ago. Basically, she just didn't read her emails properly.
"I was actually very gassed and tweeted it," she explained. "He sent me some links for stuff he thought I should sample and the email title just said 'beats' and I was like: 'I got beats from Kanye West!' Then [the email said], 'Hey, I think you should sample these,' and I was like, 'Come on, fucking Kanye, give me a goddamn beat! Let me get a beat!'"