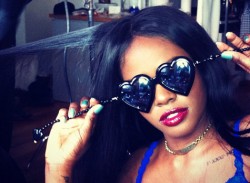 Azealia Banks has told Complex that her debut album "is going to be called 'Broke With Expenses Paid'" and will be about "all that ratchet shit".
"It's def­in­itely gonna be mad New York," she explained. "It's gonna be like this girl is trying to find her place in the world but she's still trying to be young and have a good time. She's still trying to look fresh so she's gonna spit some shit about clothes."
Elsewhere in the interview Banks recalled a hilarious studio jape with Diplo. "We were in the studio and I like poked him or something, then he chopped me in the neck, and then I decked him. I punched him in the face."
We bet Steve Mac didn't get that with Westlife.