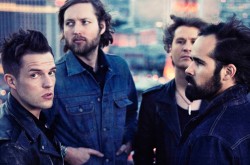 'On The Floor 2.0' hitmaker Brandon Flowers has assured fans that there are other "styles" on The Killers' forth­com­ing album 'Battle Born', just in case the Meat Loaf b‑side 'vibes' of 'Runaways' aren't to your tastes.
"It's a great starting point, but there are more styles as well," he told Billboard. "We've never hid [he means hidden, surely] our influ­ences, and we've always been loud and proud."
"This album is going down a few different roads, and you really get a taste of what we like as a band and what we think our strengths are."
The album features five different producers, including Stuart Price, so he might be right.
'Battle Born' is out on September 18.