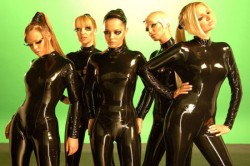 According to a well-placed 'source' who's friendly with your friends and ours over at The Mirror, Girls Aloud filmed a video for their new single yesterday.
In fact, this 'insider' seemed to know quite a bit about what's been happening 'vis-a-vis' the band's comeback.
"The girls recorded tracks with their long-time col­lab­or­at­ors Xenomania as early as May this year," he or she begins. "Some of them recorded their vocals sep­ar­ately, so they didn't actually see each other that much during the process."
"Obviously, Nadine has been pretty estranged from the group during their time off, too."
'Obviously'.
"But on Tuesday, all five were together to film the video for their big return song, which is due out next month," they continued. "It was the last possible oppor­tun­ity they would all have to get together in time for the release, as Cheryl has been busy rehears­ing for her tour and Kimberley's training schedule for Strictly has been getting more and more intense."
And let's not forget that Sarah often has to wait in for her Ocado delivery.