Anastacia is going along to The X Factor auditions in Glasgow.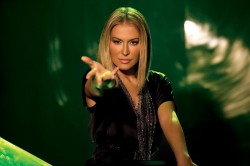 Talking about an upcoming jaunt to Europe, the 'Absolutely Positively' megastar artic­u­lately tweeted: "Head 2 Berlin for Skoda show then Glasgow 4 XFactor auditions. Funfunfun."
It remains quite unclear whether Anastacia is judging or actually throwing caution to the wind and audi­tion­ing for the upcoming series.
Just imagine that.