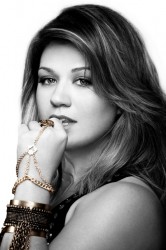 Republican Presidential candidate Ron Paul has commented on his recent con­tro­ver­sial endorse­ment by Kelly Clarkson.
During a speech to students at a school in Iowa, Ace Showbiz reports that Paul opened with "does anybody here know the name Kelly Clarkson?" before going on to mention the fact that sales of Clarkson's 'Stronger' album increased following her Twitter endorse­ment of him.
"Recently, she endorsed me," he said. "I had to admit, I didn't know a whole lot about her, but I did know that our sup­port­ers were so enthu­si­astic about it they went out and bumped up sales of her record by 600 percent."
Well done everyone.