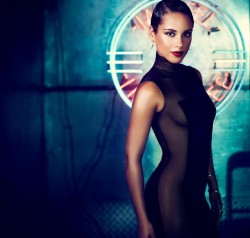 Alicia Keys will headline something called MTV Crashes Manchester on September 24, it's been announced.
According to a press release the free event is a "cel­eb­ra­tion of Manchester's long musical heritage and con­tri­bu­tion to UK youth culture" and will take place at Manchester Cathedral.
As well as an oppor­tun­ity for Alicia to see the sights of Manchester, it also serves as a nice launchpad for her new album.
"All of the love and work I've poured into 'Girl On Fire' has been for moments like this—when I'm able to travel the world and share the exper­i­ence of per­form­ing my favorite songs with my family across the globe," she said.
"I'm so excited to be a part of MTV Crashes Manchester and to celebrate music in such an inspiring and historic setting."
Cllr Rosa Battle, Manchester City Council's Executive Member for Culture and Leisure (!), had this to say about it all: "It is with great excite­ment that we will welcome Alicia Keys to Manchester Cathedral this month. She is one of the world's most talented singers and the marriage between her remark­able voice and the wonderful venue will be up there in the history of Manchester's many musical highlights."
There's more inform­a­tion on it all here.