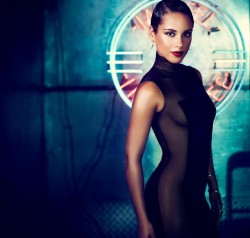 This girl is not on a Kindle Fire: in thrilling mobile device news, Alicia Keys has been announced as Blackberry's new Global Creative Director.
There is no news yet on whether she has visited Blackberry's corporate HQ in Ontario, the concrete jungle where RIMs are made, but at least she won't have to try sleeping with a broken HTC.
The announce­ment was made at the launch of Blackberry 10, whatever that is, and sees Keys follow in the footsteps of Lady Gaga (Creative Director of Polaroid) and will.i.am (Director of Creative Innovation with Intel) as the receiver of a large bucket of money from a major corporation.
According to some blurb on her website, Keys will work "closely with app developers, content creators, retailers, carriers and the enter­tain­ment community to further shape and enhance the BlackBerry 10 platform, and inspire creative use through its remark­able cap­ab­il­it­ies and functionality."
'Entertainment community'.
How much do you think this deal was worth to Alicia? £1M? More? Less? It doesn't really matter does it. It might as well be £2.99, the principle is still the same. Or £2.89. Or £9.28. Literally any figure.