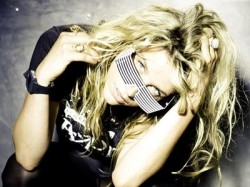 Ke$ha will appear on the new album by leathery rocker Alice Cooper, who in turn thinks she is 'more than just a popstar'.
"I imme­di­ately looked at her and went, 'This girl is not a pop diva. She's a rock singer'," explained Alice. "She would much rather be the female Robert Plant than the next Britney Spears."
(Funny that, because last time we checked Ke$ha was writing for, col­lab­or­at­ing with and showering praise on none other than Miss Spears. Perhaps Bob was busy.)
"There's a little bit of defiance in me. Even when my fans think they know what I'm gonna do, I'm like, 'Nobody's going to expect Ke$ha on my album so, great, let's do it. I like the idea you still can't put me in a corner and say, 'This is what you're gonna sound like.'"
Here's what the col­lab­or­a­tion, 'What Baby Wants' does sound like.
Oh dear.