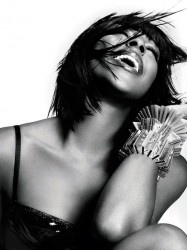 Alexandra Burke hopes to have her delayed second album out in time for Easter.
Speaking to the Daily Star, the OK.com catch­phrase generator said the new album would be "a bit more womanly, sexier" and that despite working with DJ Erick Morillo on a number of songs,"it's not strictly a banging album" but is most def­in­itely "fun, loud, up-tempo, in your face, it has a lot of colours".
She went on to say she's got about six albums' worth of material but didn't give away any of the inter­est­ing stuff like specific release dates or song titles.
As is befitting a singer who has had three UK Number One singles and a Number One album, she will be appearing with The Risk and the cast of The Only Way Is Essex at the Clothes Show Live event in Birmingham on December 2.