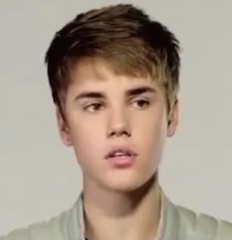 Justin Bieber has been sniffing women in public, if this intensely creepy advert for his Someday 'fragrance' is anything to go by. (Justin Bieber Zone) The whole thing is deeply unset­tling. Look out for his shifty eyes four seconds in.

Sometime chart-botherer and Friend O' Minaj Natasha Bedingfield has teamed up with Coca-Cola to record a new version of 'Shake It Up' for Christmas. (YouTube) What a festive treat for us all.

Katy Perry has made an elephant statue that will be auctioned off –sur­pris­ingly enough — for an elephant con­ser­va­tion charity. (Daily Star)

'Apparently' Olly Murs' '"massive'' X Factor per­form­ance this Sunday will involve him per­form­ing with The Muppets. (The Sun) Is it just us, or have the Muppet 'gang' been lowering their standards ever so slightly recently?

Cheryl Cole has possibly (but probably not) asked infamous love guru Gary Barlow to help her find a man. (Zimgossip)

Jessie J has been cla­ri­fy­ing what sound a car makes. (Twitter)

Florence Welch has 'revealed' that she did not enjoy hugging Lady Gaga in her meat dress. (Contactmusic)

Alexandra Burke, The Risk and Parade will all be per­form­ing at The Clothes Show Live in December. (Clothes Show Live) For fuck's sake, Alexandra.

And finally, if it is turkey that you want, then you should make Rihanna your girl, as she gave away a lot for Thanksgiving yesterday. (Daily Mail) We think it's fair to speculate that she found the giblets in a hopeless place.
THAT WAS some of THE NEWS.