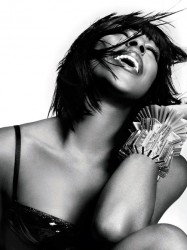 The release of Alexandra Burke's new single 'Elephant' has been postponed for the second time.
The lead single from her second album was ori­gin­ally due to 'drop' in September last year but was delayed "to make sure everything is perfect". The song, which had a planned release date of February 26, will now not be available until March 11.
After an enlight­en­ing #AskAlex session, the 23-year-old tweeted ominously: "OK… SO ONE MORE THING TO TELL YOU ALL …" She added: "MY SINGLE RELEASE DATE HAS MOVED 2 MARCH 11TH 2012. PLEASE SPREAD THE WORD GUYS… !!!! ELEPHANT IS NOW OUT ON THE 11TH MARCH!!!!"
Yeah alright Alex calm down.
The singer promised that the full radio edit would still be made available to stations next week after a Pete Tong remix debuted on Radio 1 over the weekend.
The ellipses-crazed popstar laid the blame for the latest decision on her record label, explain­ing: "For those asking … 'Elephant' has been moved to the 11th march 2012 because Rca decided to move it.….…"
All does not seem OK.com.