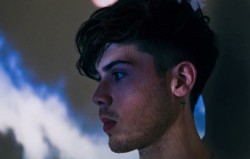 Intense Troubadour Aiden Grimshaw has been telling Music Week about how his album made his friends and family feel.
In a double-page advert for Aiden's album, which includes an amazing rundown of his various pos­i­tion­ing 'high­lights' but fails to mention the first single's chart position, we also learn about how Aiden's nearest and dearest reacted to 'Misty Eye'.
"I brought my dad up to London with my uncle — who are both 45 — got them pissed and put the album on," Aiden explained.
"I was jamming, off my tree (!). I turned around and my uncle was doing a one-legged dance (!!) and my dad was buzzing his tits off (!!!). My grandma likes the album as well — so, yeah, maybe it does have real crossover potential."
Amazing.
As for his 'mates', he had this to say: "It probably will take a while to win people over, but I've made something that I can take back to my friends, who are all hashtag-lads (!!!!). If the album was shit or if there was anything on there that was terrible they'd tell me."
Hm…