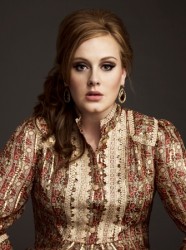 Struggling artist Adele has revealed the process behind recording 'Rolling In The Deep'.
Crediting Paul Epworth for not chan­nel­ling her emotions into a bore-off ballad, she said: "I went in [to the studio] crying and stuff, and said, 'Let's write a ballad.' And he was like, 'Absolutely not! I want to write a fierce tune'."
Adele's fury at her ex-boyfriend helped lay the found­a­tions of the tune too.
"I kept going, 'Feel my heartbeat Paul!'," she revealed. "And the beat of the song was my heartbeat… It just built and built."
An excerpt from the singer's forth­com­ing biography Someone Like Adele appears in today's Independent (quoted here).