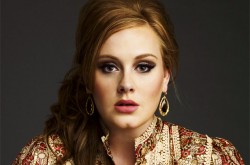 Adele has announced that her third album is due for release next May.
After her reign at the top of the album charts was ended by Lady Gaga's 'Born This Way' this weekend, the singer revealed to The Sun that she has already recorded a handful of tracks for the follow-up.
"I have five tracks ready to go. One of them is quite upbeat – a real 'girl power' type of song," she said.
"I plan to do a cover of the INXS hit 'Never Tear Us Apart' which is probably my fave song of all time. The whole album will have quite a live feel to it."