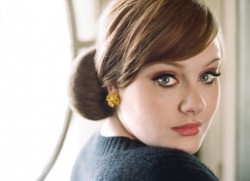 Adele and Taylor Swift won three awards each at the American Music Awards (AMAs) last night.
The absent Adele won awards for 'Favourite Female Artist in Pop/Rock', 'Favourite Album in Pop/Rock', and the coveted 'Favourite Artist in Adult Contemporary'.
But it was Taylor who won the evening's biggest prize, 'Artist of Year'.
On Twitter she wrote: "I had one of the most magical nights with my friends tonight! Hopping on a redeye to play our last 2 shows at Madison Square Garden!!"
David Guetta and Nicki Minaj opened the show with 'Turn Me On' which morphed into Nicki's 'Super Bass'. The show ended with LMFAO per­form­ing aural atro­cit­ies 'Party Rock Anthem' and 'Sexy And I Know It', during which they were joined on stage by Justin Bieber and Germany's favourite popstar, David Hasselhoff.
Incredible.