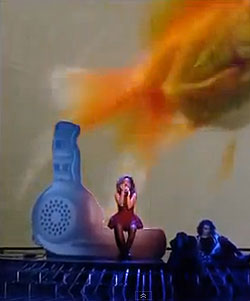 Rihanna's shoes had the words "Fuck Off" written on them during her per­form­ance of 'We Found Love' on The X Factor last night. (The Sun) Since only Dermot O'Leary's eye level was near enough to see, we must assume Rihanna was sending a message on behalf of us all.

Adele and Taylor Swift won three awards each at the American Music Awards yesterday. (Contactmusic) Like a child trapped in his parent's messy divorce set­tle­ment, Pitbull performed with both Jennifer Lopez and her ex-husband Marc Anthony. Maybe next time Marc will find it easier just to take him to the zoo.

Cher Lloyd has given the details of how to get presale tickets for her tour next year. (Twitter)

Here is a video of Kermit the Frog and Miss Piggy whipping their hair to Willow Smith's 'Whip My Hair'. (YouTube) So twelve months ago.

Fazer from N‑Dubz wants Rihanna, Phil Collins and Sting for his solo album. (The Mirror)

Scissor Sisters will be per­form­ing next year at the Hard Rock Café in Bali. (!?) (Bali Discovery)

will.i.am has been speaking about how he got the dream com­bin­a­tion of Jennifer Lopez and Mick Jagger on his new single 'T.H.E. (The Hardest Ever)'. (Rolling Stone)

The superstar at the forefront of everyone's minds, Daddy Yankee, caused his concert promoter's eyes to bleed from stress. (Ace Showbiz)

A demo of Ke$ha's new song 'U Better Know' appeared online over the weekend. (andpop)

And finally, Aston from JLS has had an awful tattoo of his hometown cathedral drawn on his arm. (Peterborough Today) An official spokesman for Peterborough Cathedral stated "While we do not encourage mass cathedral tattooing, we are so very very proud that he has illus­trated us in this way". God help us if there's a war.
THAT WAS some of THE NEWS.