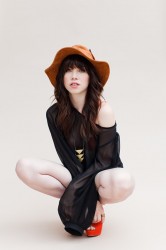 Fans of low quality unre­leased song snippets will be pleased to hear that 1 minute and 32 seconds of the Carly Rae Jepsen/Justin Bieber duet has appeared on the Internet.
The song comes from Carly's album 'Kiss' that is out on September 18.
We suggest you have a little listen of it now before some killjoy turns up and spoils the party by taking it down.
http://youtu.be/eUjKAN2M4bU