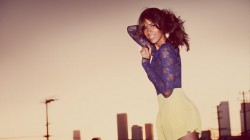 A snippet of the rumoured second single from Leona Lewis' delayed third album, 'Glassheart', has leaked.
As reported by We Are Pop Slags, the midtempo 'Love Birds' was written by Bonnie McKee — who is not exactly averse to penning a hit single or two — and will act as the official follow-up to the Avicii 'col­lab­or­a­tion', 'Collide'.
The best lyric is clearly "so so pretty, dum dum diddy".
'Glassheart' is due to be released on March 26.