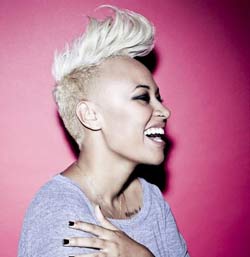 Emeli Sandé has followed in the floor­filling footsteps of Adele, Florence & The Machine, Ellie Goulding and Jessie J to win the Brits Critics Choice award. (BBC) It's certainly useful of the Brits to highlight new talent like this what with Emili only having had three Top 10 hits (including a Number Two and a Number One) in the last year or so.

'Another Suitcase In Another Hall' hitmaker Madonna has signed a three-album record deal with Interscope Records. (The Guardian) The official title of her comeback single includes the words 'gimme' and 'luvvin'. GIMME and LUVVIN.

Adam Lambert has gen­er­ously released the artwork and a 27-second 'snippet' of his new single 'Better Than I Know Myself', which sounds a little bit like Shayne Ward's 'Breathless' towards the end if that's your 'thing'. (Yahoo! Music)

Katy Perry is only the third artist — after George Michael and Janet Jackson — to have six Top Five Hot 100 singles from one album. (MTV)

Kelly Clarkson has released a quite good video for the amazing 'Stronger (What Doesn't Kill You)'. (YouTube) Skip to 2.48 in to watch Kelly 'unleash' some karate hand dance moves.

Justin Bieber was pulled over in his car – which humbly 'sports' Batman symbols on the front and back – for per­form­ing an "unsafe left turn". (Ace Showbiz)

Should-have-been-Voice-judge Will Young has been chatting about needing control in rela­tion­ships, and how getting an Aga "com­pletely changed everything" in his domestic life. (Contactmusic)

Niall from One Direction has been leaving his waxwork of President Obama outside on a balcony, which has left it in a bit of a state. (The Sun)

Global Songstress Leona Lewis has been talking about the whole 'Hurt' 'con­tro­versy'. (BBC Newsbeat) Apparently the song, which is about heroin addiction, really speaks to her, which certainly explains on all that money she's raised for horse charities.

And finally, Lady Gaga has been named the Top-Earning Woman In Music by Forbes this year, having made an estimated $90 million. (Forbes) She made double the amount of money (honey) than both Taylor Swift and Katy Perry, who came second and third respectfully.
THAT WAS some of THE NEWS.