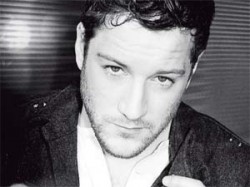 Maybe it was the tight yellow trousers, the rampant over-sexu­al­isa­tion of that condom photocall or the furiously political Biffy Clyro cover, but a local authority in Lincolnshire has banned Credibility Cardle singing in the area.
In a modern day equi­val­ent of acts like The Kinks and The Sex Pistols being banned for being too rock 'n' roll, too dangerous and too groin-spas­mingly sexy, "author­it­ies" in Boston refused to grant a license for Cardle's gig at the Boston Town Football club on May 26.
Obviously mindful of that time Sid Vicious attacked someone with a bicycle chain at the 100 Club, author­it­ies claim the ban is down to "serious concerns regarding public safety".
According to the Boston Standard, however, altern­at­ive venues are now being invest­ig­ated, as concert organiser and town chairman Mick Vines explained: "We are currently looking at two altern­at­ive venues in the Boston area. So I would ask people not to panic until tomorrow night as we have until then to get a venue."
NOBODY PANIC!!!!!
Although he added, ominously, "if we don't, it will have to be cancelled."
WHAT ABOUT THE FANS?