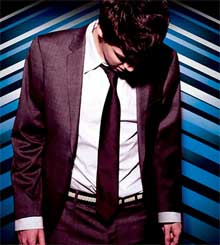 A few months ago we wrote about a new solo singer called Luigi Masi. His story is a bit confusing but the general idea is that while most people take a year out to shag their way around Thailand, Luigi has decided to make an album — privately financed — whose elec­tronic pop stylings are aimed squarely at the Popjustice-viewing sort of dis­cern­ing pop fan. It's coming out on his own label.
From one angle it's a fas­cin­at­ing exercise — we worked out that what with buying himelf onto various pop tours by the likes of Girls Aloud and Sugababes, recording costs etc he's probably already spent well in excess of £120,000 on this — but if you look at it from another angle you notice that there is a massive elephant in the room. Luigi is not only a bad singer but someone whose inability to phrase vocal per­form­ances makes even the most aggress­ive studio trickery redundant. His per­form­ances are awkward and stilted. The guy just isn't a popstar. Yet some of his songs are great, some of his songs have great pro­duc­tion, and some pull off both at once.
The latest update we've received from Masi Towers says: "I just finished my album on Saturday in Stockholm with the last two tracks 'Armed With Love', which is my second single, done by Cutfather and Jonas Jeberg and then 'Not That Complicated' which is my version of 'Up', by the same team Wroldsen/Quiz/Larossi. I think i'll be able to claim the title of most amazing album of January 2009."
Before all that there's Luigi's first (proper) single, 'Strobelight'. There's a dog at the end of the video for no reason at all.
httpv://www.youtube.com/watch?v=tSOvi_iUejY

We have no idea how this one's going to pan out — it seems such an uncon­vin­ing project that it's hard to imagine how people will receive it. Then again, if Billiam can get them­selves into the Top 30, maybe this fella could get a hit of his own.