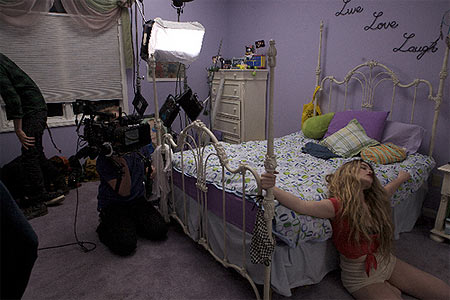 Sky Ferreira - who today unveiled the video for her first big tune '17' — is kind of a big deal.
If you are still reading this article after what might well be the most toe-curlingly trite final six words of an opening sentence in the history of opening sentences written on Tuesdays you will perhaps be inter­ested to know 'the salient points' re Sky which are:
» She is seventeen years of age and is therefore 'a child of the MiniDisc gen­er­a­tion', that lost gen­er­a­tion sand­wiched between CD and download and with all the frus­tra­tion and anomie that scenario implies.
» She's been doing stuff with people like Dallas Austin (amazing), Paul Epworth (amazing) and Bloodshy & Avant (amazing when it suits them).
» If you go to her MySpace you will hear various songs, some of which are better than '17' but probably less useful in 'impact song' terms, including a cover of one of the 500 greatest songs of all time (ie 'Stand Back' by Stevie Nicks).
» If you go to her Twitter you will exper­i­ence a slew of 'bon mots' including "I love the 'she can't sing' comments. Does this song sound like its supposed to be sung like a Mariah Carey riff or the Star Spangled Banner?".
» She is to Avril Lavigne what Ke$ha is to Lady Gaga, and while we're not exactly sure what that means we do know that we mean it in a positive way.
» The video for '17' looks like this. WARNING: Contains inof­fens­ive simulated sex scenarios.
We give it 13/17.