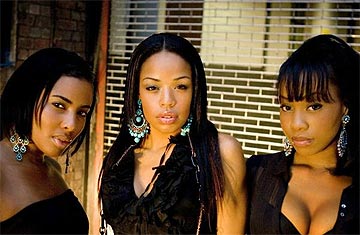 This is the a new group of ladies called Honeyshot. They're the group we told you about last year — put together by GUM Entertainment, a division of ad-makers Saatchi & Saatchi.
Here's what Brand Republic had to say in April:
"Saatchi & Saatchi is touting a man­u­fac­tured girl band, created by the agency, as its latest ad weapon in the battle to reach young consumers.
"Marketers will be able to hire the as-yet-unnamed group to promote their brands in their songs, their clothing and what they eat and drink.
"Already a drinks company, a consumer goods marketer, an enter­tain­ment business and car man­u­fac­tur­ers are said to be lining up for the chance to align their products with what appears to be the most dis­pos­able incarn­a­tion of pop in a post reality-TV world."
In spite of parading a level of pop integrity that makes Steve Brookstein look like Stephen Malkmus, we thought this might have been quite inter­est­ing — after all, most of the people working in advert­ising have better and more exciting ideas than most of the people working in pop marketing.
On the evidence so far, we were wrong. The single, 'Do It', is alright and the girls them­selves seem perfectly likeable — but the band itself is unre­mark­able, the video on their website is shit even for a test shoot, their website looks like a ringtone site, their styling is com­pletely uneventful.
According to the band's press release, the team behind Honeyshot…
"…realised for the music industry to regain lost ground they must not only embrace new tech­no­lo­gies, but must create an exciting new way of promoting music and talent to an increas­ingly hungry, tech­no­logy savvy public.
[Continues in this vein for some time]
Using brand new mobile and web tech­no­lo­gies, Honeyshot are at the forefront of a digital music revolution!"
Can you guess what that means? That's right, viewers — they've got a WEBSITE and a MYSPACE PAGE. But that's not all, of course!!! Because they are also looking for their fourth member — and you can enter by UPLOADING A VIDEO OF YOURSELF! (NB: This is obviously all part of the longterm plan and nothing at all to do with the fact that they lost a member in the time between the video being shot and the single being launched.) And they're doing a SOAP OPERA which you can WATCH ON YOUR PHONE!!OMG1111!1ELEVN!!
And that, readers, is that. That is GUM Entertainment's 'big idea' on how to launch a pop group. Too consumed with ideas of the 'tech­no­logy savvy public' to realise that the music-buying public are, espe­cially in the demo­graphic Honeyshot are being aimed at, more marketing savvy than ever before.
We think it's fair to say that anyone thinking of buying into this — media outlets, brands thinking of working with the group, pop fans — needs their head examined.
UPDATE: They've been on the phone. More tomorrow…