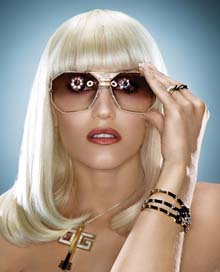 If you were planning to sit in and watch X‑Factor on Saturday night you might want to recon­sider. If you fancy instead going to see Gwen Stefani play at Wembley Arena.
We have a pair of tickets in front of us as we type these very words and we are going to give them away to one Popjustice reader. They are a nice brown colour, are worth a lot of money and inform us that winners will be sat in Row G, wherever that might be.
If you would like to go and see Gwen Stefani on Saturday night all you need to do is email us at [email protected] and tell us what plans you will cancel in order to go. Whoever we decide deserves a night out most wins.
Competition closes 12pm tomorrow (Thursday).