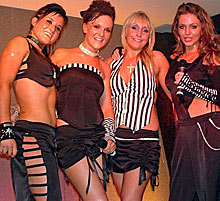 "He's a disco dancing, twirling, prancing, heart­break­ing, body­shak­ing friend of Dorothy."
"He's got some great style, fashion queen."
"I just think it's such waste cos I want him."
Has Richard Littlejohn started writing pop songs? No, but you'd be forgiven for thinking he had. These are in fact some choice moments from 'Boyfriend', a song by all-girl pop trio (pictured when a quartet) Sweet XX. You can listen to it on their MySpace.
It's difficult to know what makes 'Boyfriend' so bad but it might be the fact that Sweet XX expect The Gays to unques­tion­ingly lap up this
nasty sentiment. This expect­a­tion displays an offens­ively pat­ron­ising estim­a­tion of
gay men's intel­li­gence, not least because the type of gay man described in this song (and whom Sweet XX pre­sum­ably expect to like this song) is com­pletely not the sort of gay man usually pursued by women of the Sweet XX variety.
There's one bit where one of the girls sings "I hear what you're saying, cos it happens all the time to me", and you can't help but feel that if the girls weren't treating gay men like animals in a zoo it wouldn't be such an ongoing problem for them.
If any gay man was involved in the writing, pro­duc­tion or promotion of this song he should be having a little think about things and if the band dare dismiss this song as 'just a bit of fun' we challenge them to open up their Big Book Of Racial Stereotypes and write a similar song about black boys, then see how that goes down.
We try not to kick new pop acts these days — most, for better or worse, are trying their best and it's most polite to say nothing — but this really is a fucking terrible piece of pop music.