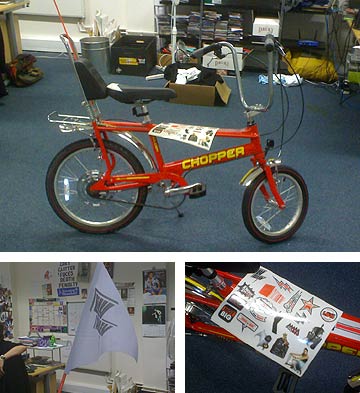 This is one of the most amazing com­pet­i­tions we've ever done. Above (above) is a Lily Allen bike — ie a bike with a Lily Allen flag and some Lily Allen stickers — which we are giving to ONE OF YOU LOT.
To enter the com­pet­i­tion, do this:
SEND US A PICTURE OF LILY ALLEN WITH A 50 WORD EXPLANATION OF WHAT SHE IS DOING IN THE PICTURE.
You can draw or paint or 'render' or whatever the picture in any format you like — but you must send it (scanned or however you choose to do it) to [email protected] as an attach­ment of no more than 1mb.
Lily will pick the winning picture herself.
We haven't put the stickers on the bike because we thought the winner, if a cheapskate, might want to pass it off as a Christmas present for someone. It's a really nice bike, if you like bikes.
Competition closes on Tuesday, December 18. Get scribbling.
Now have a look at the video for Lily's current single, 'Littlest Things'.
Very nice.