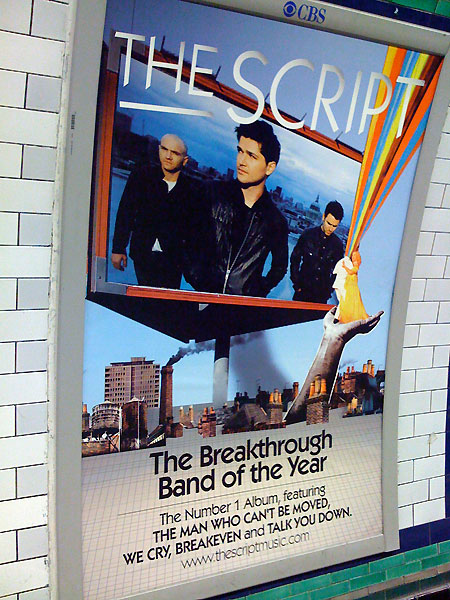 We've met The Script a couple of times, and inter­viewed them once. They're nice chaps with a knack for radio friendly tunes — and they've sold a lot of records — but, good God, you wouldn't want to be in charge of trying to make them seem exciting.
The band's current ad campaign, running on the London Underground (above) and on bill­boards, is inter­est­ing. The posters feature the band on a huge billboard. The message seems to be 'this is a band who are important 'n' amazing enough to be the subject of a massive advert­ising campaign'. It isn't enough that the band actually are being advert­ised on a billboard. Only with a band as over­whlem­ingly unex­cit­ing as The Script would it be necessary to feature an advert­ising campaign WITHIN AN ADVERTISING CAMPAIGN in order to draw people's attention to the fact that the band are being advertised.
There's another campaign on the London Underground at the moment — it's for a building society.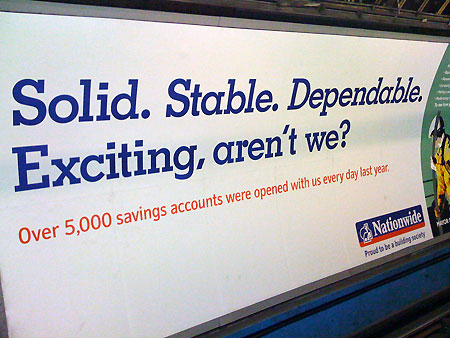 Instead of trying to make their product seem inter­est­ing, they've admitted that it's boring. People want and expect bor­ing­ness when it comes to money. But even when they're buying Script, Dido, Snow Patrol or Lee Mead for when they're driving or doing the washing up, people don't want admit that the main selling point of this music is its total lack of excitement.
We now demand a MUSIC INDUSTRY BORINGNESS AMNESTY.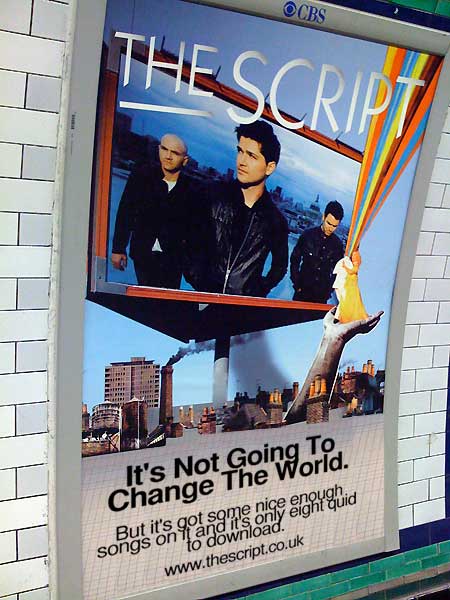 It wouldn't be a very easy meeting. You can't imagine a label bigwig
sitting down with The Script — or with any of the other clearly boring
bands launched each year by major labels — and saying, "right, we're
not even going to bother pre­tend­ing that you're exciting. The big
marketing idea is GOOD BUT SLIGHTLY BORING MUSIC THAT WON'T SCARE THE
HORSES". Bu it would be a good step forward.