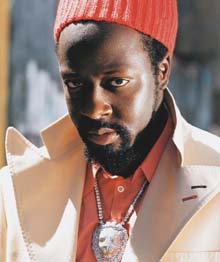 Who's new on The Popjustice Almighty?
Well, let's have a little look…

1. Wyclef
Not a name often thrown around these parts, but Wyclef's new single is the best thing he has recorded since '911'. You probably ignored it when it was Song Of The Day a few weeks ago. We don't mind, but you should click here and make up for lost time.

2. The Whip
Their new single 'Sister Siam' is AMAZING and we told them this last week in no uncertain terms at a Maison Kitsune club night. Although it was four in the morning and we may have scared the drummer a little bit with our enthusiam…

3. 'Bleeding Love'
Simon Cowell was right, the first Leona Lewis single is very good. Well done Simon and well done the British public.

4. Gabrielle
The whole album is very nice and very Gabrielle. We will continue to tell you this until you take this in, so the sooner you accept it the better.

5. Mika

Well done Mika, your new single is listen­able. What a shame about all that other stuff. :(