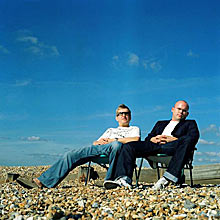 There are some new people on The Popjustice Almighty. Some of them good looking, some of them less so.

1. Freemasons
So why are two old men on a beach at the top of the Popjustice
Almighty? Well, if their work on their own album and countless remixes (par­tic­u­larly 'Beautiful Liar') wasn't reason enough, their
newish remix of Beyonce's boring new single 'Greenlight' once again polishes a real turd into yet another one of the greatest singles of all time.
2. Palladium
Still good, and if you haven't heard their 'Happy Hour'
song yet, you should click this coloured piece of text imme­di­ately and read
what we have written about it and then hear the song for yourself. Their Glastonbury set was literally very good and there were Palladium BALLOONS outside the tent as well. Attention to detail, you see. That's what it's all about.
3. Spice Girls (TBC)
We will let you know how we feel about this on Thursday.
4. I Am Finn
Another tre­mend­ous pop act with a realistic chance of being
popular in places other than Popjustice and East London. Listen to 'Hard' here.
5. The Killers
For being one of the only proper bands who were properly good at Glastonbury. "Oh boo fucking hoo it's not loud enough." Listen. The Killers could choose a £15 pair of iPod speakers as their PA system and 'Smile Like You Mean It' and 'Jenny Was A Friend Of Mine' would still be two of the most perfect Glastonbury Pyramid Stage songs ever. Yes? Yes.

666. Beth Ditto.
She doesn't like Girls Aloud.