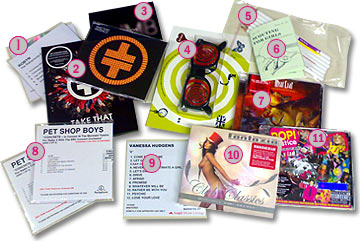 1. A Robyn CD
She is finally coming out in the UK. From the PR bumf it seems she is pitching herself as COOL instead of POP which means that nobody will mind when she only sells 2000 albums. People on the PJ forums are very excited about Robyn coming to the UK and they are right to be excited because Robyn is amazing. The Robyn CD is obscuring a pro­mo­tional sampler for the ALSO AMAZING David Cassidy greatest hits compilation.

2. Take That's single and DVD
We played the single very loud and it sounded very good. The special DVD features include what they are calling 'under­stage action', which we suppose means that we might get another glimpse of Howard's scrotum after all.

3. Yet another copy of the Pet Shop Boys single
We have so far received SIX pro­mo­tional copies of 'Numb', none of which have included the b‑sides (which are extremely good and pur­chas­able on iTunes).

4. Some Badly Drawn Boy spectacles
They look good but have things drawn on them so are useless, clearly in honour of the fact that BDB's single is amazing except for the chorus.

5. Some nice pencils with song titles on them
You cannot go wrong with pro­mo­tional tat of this nature.

6. A sort of fanzine thing by Scouting For Girls
We haven't played the CD yet and, to be fair, are unlikely to ever play it, but the little booklet thing is very nice.

7. Meat Loaf's album
OMG it's a finished copy. It includes a DVD. We hope there is no 'under­stage action' in the extras. 'Blind As A Bat' still amazing.

8. The Pet Shop Boys live album
The best bits on this are 'It's A Sin', 'Casanova In Hell' (featuring Rufus Wainwright) and 'Dreaming Of The Queen'. It is just like being there except without having to run out of the aud­it­or­ium for a piss during the boring 'Battleship Potemkin' bit. We've also for some reason received two finished copies of this so if one of you would like one send us an email and we'll send it over.
(Thanks for your emails, it's gone now…)

9. Vanessa Hudgens' album
This is the woman off 'High School Musical'. We have given this album a spin. Perhaps it 'takes a couple of listens'.

10. A Fantazia com­pil­a­tion album
The sleeve features a bird with her knockers out. There are precisely 15 good songs on this com­pil­a­tion, which wouldn't be too bad if it wasn't a 3CD effort. Anyway, why is anyone still doing com­pil­a­tion albums? Haven't iTunes, MP3 players and the like made that sort of thing com­pletely redundant? These people need to GET WITH THE TIMES.

11. Er…