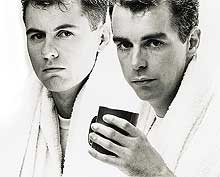 The Brits are scraping the barrel a bit this year by awarding the Outstanding Achievement award to Pet Shop Boys, but if we're going to have to endure yet another sub­stand­ard Brits finale (we mean really, where are the tunes?) let's make sure it's done properly.
Basically it should take the form of a medley. There are no two ways about it. We have never been more certain that a medley is a way to go.
It should start off with some sort of shit acoustic version of a song like 'Left To My Own Devices', and then everyone will be thinking "this is going to be shit" and then something big kicks in ('It's A Sin' will do nicely), and then they should do a bit of the new single 'Love Etc' (FYI Xenomania should be a 'backing band' but sort of in shadows) and then Girls Aloud should come on and join them for a bit of 'The Loving Kind' (which will by that point have been an inter­na­tional Number One hit single) and then Robbie comes on to sing 'She's Madonna' AND THEN MADONNA APPEARS AND SINGS SOME OF IT except changes the lyrics to "I love you baby, but face it I'm Madonna" while images of Guy Ritchie flash up on the big screens, and then Britney comes on and does 'What Have I Done To Deserve This?' with Neil, and then Bono and Neil duet on 'Where The Streets Have No Name', and then it's 'Paninaro' o'clock, and then they 'slow things down a bit' with West End Girls and then it's time for 'Go West' with a thousand miners in buckets being lowered down from the ceiling. Actually Xenomania shouldn't be on stage, it should just be Neil and Chris.
All in the whole medley should last for about 75 minutes.
Let us be very clear that this HAS to be a medley.
The End.