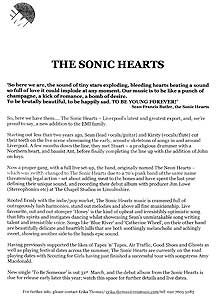 "So here we are, the sound of tiny stars exploding, bleeding hearts beating a sound so full of love it could implode at any moment. Our music is to be like a punch of champagne, a kick of romance, a bomb of desire. To be brutally beautiful, to be happily sad. TO BE YOUNG FOREVER!"
That is how Sean from The Sonic Hearts describes his band's music.
We think what he means is "hello! We are another averagely listen­able guitar band capable of pulling off
mod­er­ately accept­able album sales, endless appear­ances on The Album
Chart Show and gushing praise from Edith Bowman. We are a band from Liverpool who have listened to the indie song 'Valerie' by another band from Liverpool and the popular cover version by Amy Winehouse and Mark Ronson, and then we have made an indie version of the Mark and Amy version and thrown in a bit of a rubbish old The Jam song, and we have decided to call it 'Honey'.
We think that's what he's getting at. Have a listen at their MySpace.