Goldfrapp's ACTUALLY VERY LISTENABLE new album 'Seventh Tree' is out next week. Let's have a look at what you can expect when you buy the CD.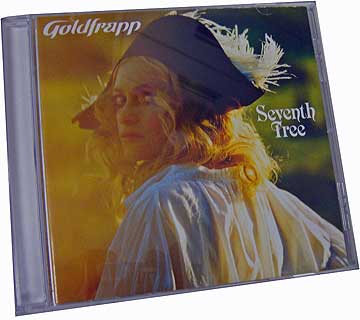 This is the box itself. Nice picture, shame about the dis­col­our­a­tion. Perhaps next time the pho­to­grapher should not take important pictures using the last frame on their roll of film.
Let's open up the box.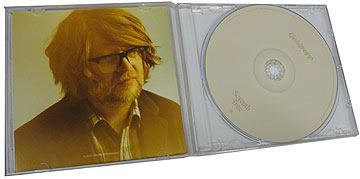 Hello Will! Will is pictured here looking at the 'Seventh Tree' compact disc. "I made that," he is thinking. "It maybe wasn't quite what people were expecting but as an artist I am allowed to do whatever I fancy thank you very much." He has a point.
What's in the CD booklet?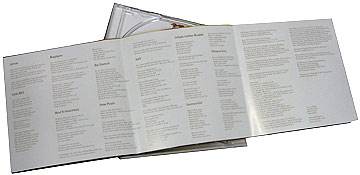 Lyrics. These will prove useful when you are out dancing and the DJ prompts a dance­floor explosion by dropping 'Clowns' — you'll be able to sing along at the top of your voice! 'But seriously though' we'd like to take this oppor­tun­ity to say that if you haven't had a proper look/listen to the 'A&E' lyrics yet you should give them a go because they really are properly nice 'n' beautiful.
You can see from the above picture that the CD insert is a fold-out, staple-free affair.
The big question now, of course, is what happens when you com­pletely open up the insert?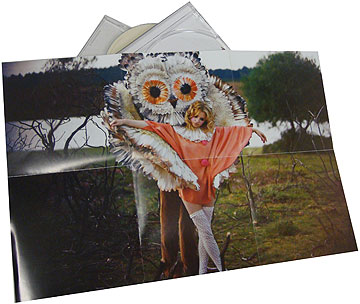 Amazing — a picture of Alison Goldfrapp, crucified on Will dressed as a big owl. If whoever wrote the Bible had put huge comedy owls into their own cru­ci­fix­ion scene nobody would have had to invent Easter eggs to liven the event up. Worth a thought, eh? If in doubt, chuck in an owl.
There's one last thing. A band with such a keen eye for detail would always make sure there was something under­neath the compact disc when you took it out of the plastic tray. But what will Goldfrapp go for? Another beautiful pho­to­graph of Alison? A clown, or a pirate, in keeping with other elements of the album's visual style?
Let's have a look.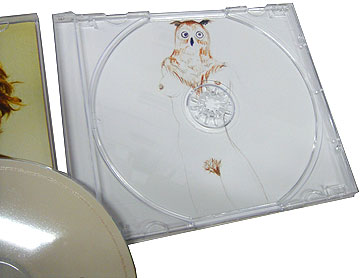 ARGHH!!! OUR EYES! OUR EYES! IT'S A NAKED WOMAN WITH AN OWL'S HEAD! OH NO!!!! WE NEVER WANT TO SEE AN OWL AGAIN!!!!!!! WE'RE BLIND ETC!!1!!!