Right. It is Christmas and we, like everyone in the country, are fucking off today for a week or so. Quite deservedly too, you will agree, con­sid­er­ing what an amazing year 2006 has been, as the following com­pre­hens­ive and exhaust­ive list proves beyond any shadow of a doubt: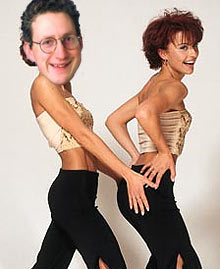 :: Gabriella Cheeky Girl ran off with an MP. Now they are going to get married and The Cheeky Girls are going to release 'The Hokey Cokey'. Deport! Deport!
:: Alesha Dixon's husband ran off with Javine and we like everyone else went down the misogytastic route of blaming Javine.
:: Emma Bunton did a dance on TV and got a Top Ten record.
:: Matt Willis ate a bumhole on TV and did not get a Top Ten record.
:: Nelly Furtado went from being rubbish to being amazing — and continued getting better.
:: Rihanna went from being rubbish to being amazing and then went back to being rubbish again, restoring a certain degree of pop equilibrium.
:: The All American Rejects were com­pletely ignored by the singles buying public, the media, and everyone who reads Popjustice.
:: Robyn decided that she would release her years-old album in the UK after all.
:: People started writing things about Will Young maybe not actually being a very nice person after all.
:: Victoria Newton kept the nation enter­tained with continual wild assump­tions about music, celebrity and film.
:: Take That came back and looked quite old but that was okay with everyone. All Saints came back and looked exactly the same and that was not okay with anyone.
:: Madonna caused an enormous fuss by adopting a black baby.
:: Kylie got better and started singing again.
:: Girls Aloud won the 2006 Popjustice Music Prize for 'Biology'.
:: Girls Aloud spent the night in a haunted house with a foul mouthed TV presenter — except for Nadine, who spent the night splitting up and then not splitting up with that man off Desperate Housewives and Nicola, who spent most of the night waiting in a car outside.
:: The Darkness split up.
:: Sandi Thom made up A LOT of old rubbish about the internet.
:: No one bought the Jamelia album. Or any of the Jamelia singles.
:: Not many people bought the amazing Robbie Williams album either. If they did, they didn't like it much.
:: Smash Hits AND Top Of The Pops shut up shop.
So unless someone gets their cock out before New Year or Britney records some bloody new music, we will see you in 2007. Thank you for coming to see us in 2006.
Keep yourselves enter­tained in the interim with The 2006 Popjustice Readers Poll, The A – Z of 2006 and The Greatest Singles & Albums of 2006.
WE LOVE YOU ALL VERY MUCH.
PJx