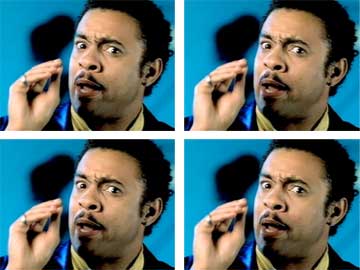 We have been listening to 'Best Of Shaggy — The BOOBASTIC Collection' recently. As well as charting Shaggy's career tra­ject­ory from a man capable of carrying a song by himself to someone whose role involves inter­mit­tently popping up to shout and grunt a bit, it's a catch­phrase-fuelled 'jamboree' which could form the basis for a brilliant Shaggy sitcom.
The sitcom would be called 'It Wasn't Me!', and it would be a bit of a cross between 'Curb Your Enthusiasm' and 'Some Mothers Do Have 'Em' ("ooh, Rayvon, the cat done a whoopsie").
During the course of each episode Shaggy and his pals would find them­selves in a series of hilarious scrapes and mis­un­der­stand­ing and then Shaggy would say "it wasn't me" and then lean on a counter but the hatch would be up and he'd fall over.
It might well be funnier than this par­tic­u­lar career highlight, which is curiously not included in this BOOMBASTIC col­lec­tion. We were at the video shoot for 'Me Julie', an exper­i­ence mainly notable for how little of interest actually went on apart from the fact that the director blasted out 'Livin' La Vida Loca' at top volume when the shoot was finished.

THE FOUR BEST SONGS ON 'BEST OF SHAGGY — THE boom­bastic COLLECTION':
1. 'In The Summertime'
2. 'It Wasn't Me'
3. 'Hope'
4. 'Oh Carolina'
('Hey Sexy Lady', 'Angel' and 'Boombastic' are all quite good as well obviously.)