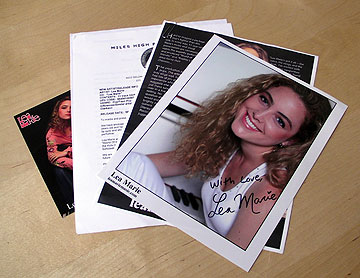 Answer: good. In these days of down­load­able desktop wall­pa­pers and opt-in email mailing lists signed pho­to­graphs have lost some of their pop currency, so it was a nice surprise to open a package from Lea Marie a few weeks ago and discover this won­der­fully old-school pho­to­graph signed 'with love' from the young singer.
Despite an accom­pa­ny­ing press release spouting various like-grunge-never-happened state­ments like "in every way 15-year-old Marie's music and present­a­tion are com­mer­cially viable" and "she would shine brightly in the current Disney/Hollywood Records jug­ger­naut" her songs are pretty sparky if you're into that sort of thing — you can hear them at www.myspace.com/leamariemusic.
Back to the pho­to­graph, though. What do you think of the elaborate curls in the 'L'? The heart dotting the 'i'? And how about the fact that 'love' is cap­it­al­ised? There's a lot to think about here, readers.