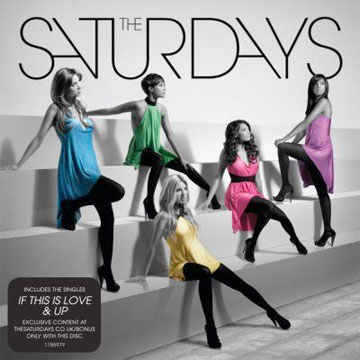 Tomorrow we were going to put up a clip of the standout track from The Saturdays' album, 'Chasing Lights', but they've put a bit of 'Work' on their MySpace today so we might as well chuck it up now.
GET YOUR LISTENING GEAR AROUND THIS.
[audio:works.mp3]
It sounds world-class to us — well, you can sort of imagine Rihanna knocking it out — and should be the next single after 'Up', which is itself pretty bloody amazing.
As you can see, the album sleeve's in the 8 or 9 out of 10 area of things as well.
WELL DONE THE SATURDAYS FOR HAVING MORE THAN TWO GOOD SONGS ON THEIR ALBUM.
(The band are pre­view­ing various album tracks each day on their MySpace — it's all 'going off' at www.myspace.com/thesaturdays if you fancy taking a look and listen…)