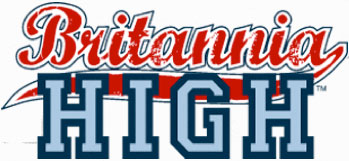 We haven't written anything about Britannia High yet but it's a thing we'll be seeing and hearing quite a bit of over the next few months so we might as well acknow­ledge that it exists.
Here is the news:
» It is a TV programme featuring not ugly youths.
» It is set in a per­form­ing arts school.
» There is singing and dancing in it.
» The music from the series will be coming out through Polydor.
It is just as well I Dream, the S Club Juniors spinoff TV vehicle featuring not ugly youths in a per­form­ing arts school singing and dancing to music that even­tu­ally came out through Polydor was such a disaster that nobody remembers it, really.

The first single to be released from the series, 'Start Of Something', is an explosion of jazz hands stageschool nonsense so intensely unpleas­ant that you'd half suspect Scouting For Girls to have been involved somewhere in the creative ('creative') process. Apparently some of the other music is good. We have no idea one way or the other. You can listen to 'Start Of Something' at the Britannia High website, which is at www.britanniahigh.com alongside various pieces of 'extra content'.
Content's great, isn't it? How it works is that you create holes in places, like you'd create an hour-long hole on ITV1, then another hour-long hole on ITV2. You'd create a hole on the internet, and you'd create a hole in an SMS service. You create holes in the release schedules and holes in magazine spreads. Then once you've got all these holes, you just fill them with content. What sort of content? Doesn't matter. The people lapping it up are idiots, right? They don't deserve anything better. No need to think about it too much. Just add content. Any content. Any old absolute rubbish you can get your hands on. Behind the scenes content, added content, bonus content, exclusive web-only content. Three hundred and sixty degrees of total shit.
BONUS CONTENT: HILARIOUS THINGS TO CALL BRITANNIA HIGH
1. Shitannia High
2. Shitannia Low
3. Lame (ie it is like Fame but not as good)
4. I Recurring Dream
5. Etc