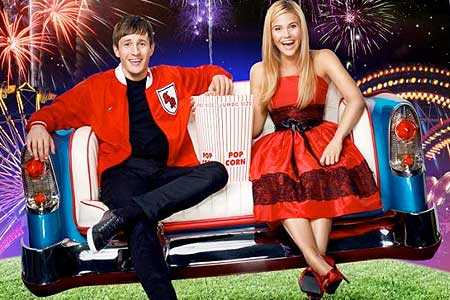 In news that is sad for lots of reasons and sort of not sad at all for lots of other reasons Same Difference have been dropped by their record label following one not very suc­cess­ful single and one not very suc­cess­ful album.
There was a lot of potential for Same Difference to be something quite positive but they disappear into the pop horizon as an example of what happens when you treat pop music as a something to be exclus­ively consumed by children.
We met Sean and Sarah a few times and while we wouldn't say that was a basis for any sort of deep under­stand­ing of the siblings' ability to cope with this type of news we'd say there are currently two potential scenarios:
1. They are smiling a lot and finding the silver lining in this news and thinking that everything happens for a reason and turning their frowns upside down and looking on the bright side because really this is just the beginning.

2. They are having a bit of a shit old time of things and wondering what to do next.
We kind of hope it's the latter — they both have futures ahead of them in enter­tain­ment but only if they are capable of accepting and properly pro­cessing what has happened.